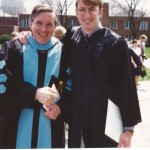 I write today to say thanks to Edwin P. Arnold. "Doc" will retire from Grove City College at the end of this school year after 38 years of service. There are many great educators who were mentored before me by Dr. Arnold, and there were many after me at Grove City College. We all owe him gratitude for providing us with opportunities to find out just what we could become. We all have a different story of what he did for us, and it demonstrates just how well he knew us as people. Doc understood that in this profession, people do matter. He often said "music can sometimes be a very important bi-product of what we do". I will always be grateful for that lesson I saw played out in numerous ways.
I have enjoyed a blessed life. I have an earthly father who is my first musical role model and my hero. I have a heavenly Father who I believe must chuckle frequently at me over the number of times that I don't get something quite right the first time. I have a band father who has mentored me from the last few days of August 1995 to as recent as last Tuesday on the benches outside the auditorium at Mercer. Whether it was late night coffee and pie, early morning breakfasts, or chats after observing a student teacher, I was always thankful to have him share some perspective with me – and often a perspective that helped me make sense of things or one I had not thought of.
The times I started brass class as a teaching assistant thinking he was running late only to look up and see him taking notes from the back 10 minutes into class. I remember having to run a concert band rehearsal thinking he wasn't there because he went to the airport. At the end of rehearsal I was greeted by Robert E. Foster with a "You ran a great rehearsal! Great job!" – he and Doc had arrived at 4:05 p.m. and visited while rehearsal went on. He made many of us very sure we were going to succeed as a director by putting us in positions where the only alternative was to be successful. Stressful at the time, I am grateful for every single minute today.
It is very easy to forget to say thanks to the people who matter the most in our professional career. It is hard to fathom the investments that he has made in so many educators over the course of his career, including myself. Doc has always impressed me as the kind of leader though who would rather not accept that praise and gratitude, but would want us to offer those same opportunities to our students or those who we lead in professional organizations and other groups. I think at the end of the day Doc's return on investment comes as he looks at the multitude of educators now directing, teaching and leading students to meaningful connections with music in schools across the Keystone, in the Northeast, and across other parts of the Nation.
Those were the thoughts that fueled the inception and eventual completion of Crimson Legacy. I am honored to have my best friend Joe Pisano conduct it on Friday night at Doc's last official concert on the campus of Grove City College this Friday night. There are moments of bold fanfares, reflective themes, and running woodwind passages (Sorry flutes and clarinets! J). But beyond that it is homage to one man who has meant a great deal to many, many people. Thanks Doc. Thanks for believing in me. Thanks for pushing me. Thanks for asking me "So you want to be a band director?". 'Cause I do. Being a band director is the only thing I know how to do, and the only thing I much want to do. Thank you for letting me part of your legacy.