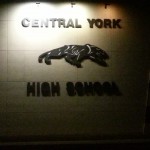 I am excited to begin a two day clinic with the Central York High School and Middle School Bands on March 16th & 17th. It is an honor to be asked by colleagues who do what I do, and I am grateful to Jim Martini for extending me this opportunity.
For the first time, I will have the opportunity to conduct "Shine!" in a public concert. I am indebted to both Drew Fennell and David Blon, who both took really good care of this work in earlier performances with the Carnegie-Mellon and Youngstown State, respectively. It dawned upon me while driving out to York this evening, that this would be the first time I would take the piece for a drive myself with the York High School Symphonic Band. The York HS Concert Band will perform "Festival and Ballade for Winds" (originally written for the Pittsburgh Diocesan Honor Band). The Middle School Symphonic Band will perform "The Last Stagecoach Heist" (which chronicles the last act of crime of Black Bart). The Middle School Wind Ensemble will perform "Yankee Fanfare", a newer work available from Grand Mesa.
It is a short window of time that I can share part of my journey with these young musicians. I hope that through our interaction, communication, and shared creation of aural art that they can build upon the musical training they have already received. I am reminded to meet these students where they are, focus on how they can become more aware and intuitive musicians through our rehearsals, and be positive and encouraging to them in their decision to perform in band. I hope they learn from me. I hope I learn from them. I hope our shared experience creates another positive ripple on the this part of the pond for instrumental music education. Let's get to it Central York!